How to track a motorcycle or scooter using a GPS device?
Modern technologies allow attackers to hijack someone else's vehicle in seconds, but they also help to detect the loss. Car owners understand that the installation of anti-theft equipment does not always work, so they resort to satellite monitoring of vehicles.
A GPS tracker is required to determine the location and track the movement of vehicles, including motorcycles, scooters and ATVs.
How does a GPS tracker find a motorcycle?
The GPS tracker is installed in a place where it will be imperceptible. The device can work independently or powered by the on-board network of the moped.
The GPS tracker starts by connecting to a tracking system. Satellites transmit special signals that are received by ground-based navigation equipment. The tracker receives a signal from the satellite and calculates the coordinates, speed and other parameters. The data received is transmitted to the vehicle owner. One of the options for transmitting coordinates is SMS with a link to a map that can be opened on a smartphone. Another transmission method is to the monitoring server, which stores all the information in the database in the form of records. The data contains information indicating the date, time, coordinates that may be needed by the vehicle owner.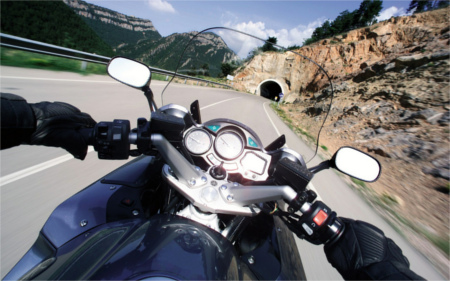 In advanced trackers for monitoring vehicles, there are also microphones, a function to turn off the vehicle's engine on demand, route construction, and others.
How to find a stolen motorcycle using satellite monitoring?
A stolen scooter with a GPS beacon installed on it can be quickly found. Usually, owners wait for the lighthouse to transmit satellite coordinates, or send an SMS request to obtain information about the location of the vehicle.
The received code from SMS is hammered into a GPS-navigator or a special program on a PC to obtain data on the location of motor vehicles.
It is important to understand that the quality of searches is affected by the presence of jammers and whether the vehicle is indoors.